Fit Dogs - Pilates for Pooches
A Core Strengthening and Conditioning Program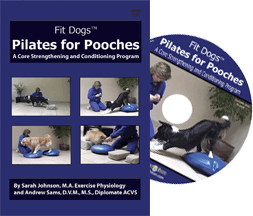 Pilates for Pooches will teach your dog to move from its core while actively stretching and strengthening its muscles by using various boxes and wobble devices.
Sarah Johnson, M.A., Exercise Physiologist, was one of the first to bring human Pilates to Northern California in the early 1990s. Using similar concepts, she has now designed and implemented a simple, progressive home exercise program for healthy dogs. You and your dog will enjoy this fun and innovative core strengthening and conditioning program.
This DVD presents:
Lecture, outline, and demonstration videos to guide you through this revolutionary program step by step.

Bonus Section: Getting Started with a Puppy.

Three printable documents (PDF files) summarizing information from the video:

Whether your dog is an athletic performance dog or a family pet, the common sense Fit Dogs program will help meet your fitness goals for your dog. The dogs have so much fun while improving their balance, body awareness, flexibility and muscle strength that they donít want to stop. Many dogs, including Sarahís 12-year old agility champion, have shown that the Fit Dogs program really works!
Congratulations to Sarah and 12-years old Cruiser for winning "2006 USDAA Veteran All Around" at the World Cynosport Games.

"Fit Dogs" is a trademark.